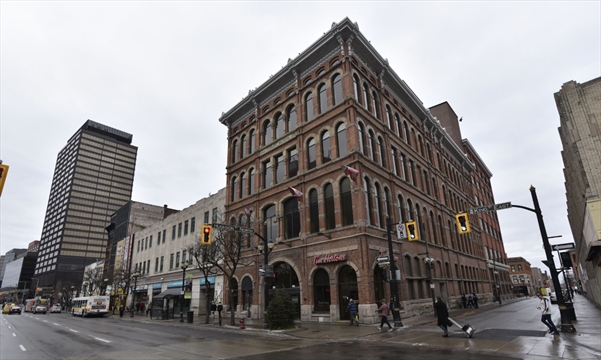 Right House Downtown
John Rennison,The Hamilton Spectator
The Right House on the corner of Hughson on King Street. It was built in 1893 as this city's first modern department store.
---
Hamilton Spectator
There is no better example of heritage restoration in downtown Hamilton than the Right House, built in 1893 as this city's first modern department store.
But these are lonely days for the handsome landmark that looks out onto Gore Park from King East and Hughson. After years of running at full occupancy, the big building is nearly empty.
I walked through its gorgeous mall level the other day, just because it had been awhile.
It is dressed for the season. Moving past a long line of Christmas trees, the maintenance man polishes the floor to a fine shine. But there's no one here to see the show.
Where stores should be, there are billboards advertising office space for rent upstairs. A lot of space, tens of thousands of square feet.
I knew the Right House was bracing for trouble. For years it had been home to City of Hamilton office employees, several floors' worth in a building that's four storeys in front, six at the rear. But the city started to shuffle staff.
Some went off to the Lister Block, because there had been a civic commitment to fill that building. Other staff went to a tower in Jackson Square, in the name of consolidation.
It was back in 1994 that Aragon Properties of Vancouver took over the failing Right House project — a time when few had hope for a downtown revival.
So all these years later, it hardly seemed fair for the city to dismiss such initiative by hauling jobs out of the Right House.
I head upstairs. Aragon has a small office on the second floor. Wendy Green, on reception, explains the boss is tied up for a few minutes.
"Have you seen our third floor?" she asks.
I have not. She's proud of it and conducts a quick tour.
It is a spectacular brick-and-beam space, nearly a city block long, with high ceilings and big windows and a newly-restored hardwood floor, the very floor on which Hamilton shoppers perused fine merchandise more than 100 years ago. Tile and carpet was stripped, thousands of staples painstakingly pried from the wood.
All the drywalled offices and hallways got torn down to create the open-space concept more popular today. Beautiful new washrooms were built. Cost of this third-floor transformation: about $400,000. Completed last year, it's still empty.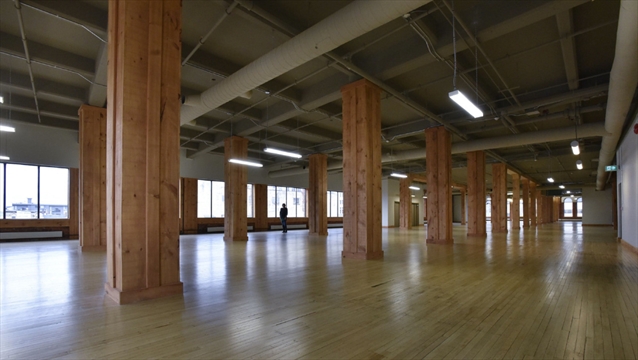 THIRD FLOOR
John Rennison,The Hamilton Spectator
The third floor of the Right House has . a spectacular brick-and-beam space, nearly a city block long.
We return to the second floor, and I meet Beth Molnar, Aragon's new senior property manager. She worked for JJ Molnar Realty Advisors, a firm started by her late father. Her duties included managing the three-storey building at the northeast corner of King and James. It's a nondescript address, home to a convenience store, pizza place, discount shoe shop, cash-for-gold outlet.
It's been owned for decades by the Bank of Nova Scotia, and there were rumours the bank wanted to assemble more land and build a tower there. Never happened, and the important corner got neglected.
But Molnar tells us Aragon bought that building this fall. The firm got to know her in the process of that sale, and asked her to join them.
Aragon has owned the old Woolworth's building next to the Right House for years, and made substantial improvements there. But now, Molnar says, Aragon owns nearly all of that north side of King between Hughson and James.
Only No. 9, Gino's Pizza, and No. 11, The Alley, a clothing store in the old Mills China building, are not in the portfolio … yet.
"There's no grand plan at this point," Molnar says.
Most of the upper floors of those old buildings on King have been empty for decades. Stairways are barely shoulder-width. But if you own several buildings in a row, there are ways to install proper stairs and an elevator.
Molnar admits losing those city tenants remains a major blow.
"But Aragon is patient … they see the potential here."
http://www.thespec.com/living-story/6991208-wilson-right-house-now-near-empty-but-owners-buy-more-of-the-core/