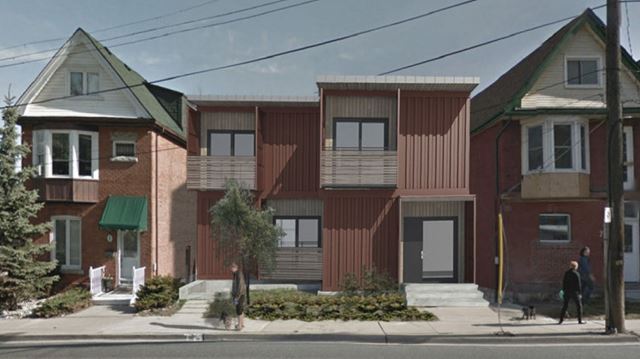 SHIPPING CONTAINER HOUSE
Courtesy Wonder Inc.
A rendering of a shipping container house being built on Arkledun Avenue.
Hamilton Spectator
Here's what Jason Halter likes about building houses from shipping containers: you can only get so fussy when you're working with shipping containers.
The design language there is more industrial, says the Toronto architect. Sure, it can be refined with marble accents, or nice fixtures, but overall you're looking at what he calls a lunch box esthetic.
Fitting, then, that the house he's working on is in Hamilton.
This spring, Halter's design will go up on a residential lot at 5 Arkledun Ave., near St. Joseph's Hospital.
Though it will be the first in the city, Halter says we're past the point of shipping container houses being novel. Over the past 25 years, architects such as Wes Jones and LoTek have refined shipping container construction into an art.
Still, it's not the kind of contemporary architecture you see on most city blocks. For all its savvy, or for all that people may have heard of it, it remains eccentric in practice.
Halter, who lectures in the architecture program at the University of Waterloo, started his modular housing company, Wonder Inc., around 2008.
He believes this is the first such house in Canada in an urban setting, though he has designed similar buildings in China, South America and California. He set one up on a military base in the middle of the Mojave Desert. Another in Manhattan's West Village. Another is a medical marijuana facility in Stayner, Ont.
Some have been permanent, others temporary.
"In a way, all architecture is temporary and the shipping container is sort of this icon of being temporary," Halter says. "Here today and moved around the world all over the place. I like that place, yet at the same time you hope something you made still looks good in 10 years. That's the challenge for any architect or designer."
Halter says it can be a challenge to modify the container, to know where to cut openings in the walls (retrofitting takes place at an offsite facility), but otherwise, the approvals process is the same as it would be for any other kind of construction.
Halter says designs have to comply with the Ontario Building Code and the national code. Beyond that, it's not that much different than building a traditional house. And, with a budget of $175 a square foot, it's not much cheaper. The Arkledun house will be roughly 2,500 square feet above grade, with 1,200 square feet below. According to a calculation of $175 a square foot, this is $647,500.
Containers mostly come from one of two factories in China, says Halter. They bring goods here then they sit in a shipping yard or go back overseas. Sometimes they're purchased for projects like his.
There are a few considerations unique to working with the containers. Because the house will be mostly steel, with a concrete foundation on the main floor, Halter is going to glaze the south-facing wall, to better hold heat. Then the place will be done with spray foam insulation, faced with plywood.
Halter likes to use plywood cladding (made from Canadian Douglas fir) because its beefiness reinforces the strength of the steel structure. It's also great for hanging millwork and cabinetry.
To fireproof the house, and to guard against moisture and mould, Halter uses magnesium oxide board, rather than gypsum or Roxul insulation.
Height considerations, he says, can make some people pause, but he says that even with the space taken up by floor and ceiling materials, you're still looking at an eight-foot height in a container space.
As far as the exterior goes, some want to cover up the fact that it's a shipping container. Halter's Hamilton client, however, wants it to be obvious.
Halter will use flashing at key points to ensure the building is waterproofed. He'll also paint it with an aerospace-grade polyurethane, in brick red, so it blends in with the surrounding brick houses. But the exposed corrugated wall on the front will be a visual cue that speaks to the origin of the house.
Otherwise, he says, it's the same thing everyone deals with when it comes to houses: trying to comply with heights and setbacks.
Construction will begin as soon as the ground thaws in April.