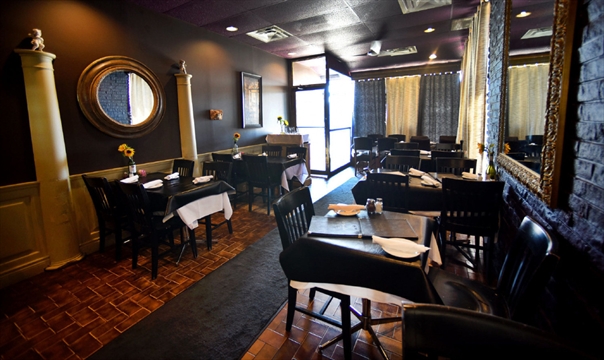 LA SPAGHETT
Barry Gray,The Hamilton Spectator
When we stepped inside, the curtains distilled the evening sun into a gentle glow. Jazz standards and blues were playing, and pictures of Europe hung on the mellow purple walls.
Hamilton Spectator
La Spaghett Pasta House sits in an unadorned strip mall on Upper James, between the Linc and Mohawk Road.
The website, however, exhibits signs of splendour, with a formal font, ornate flourishes decorating the corners of each page and a picture of the dining room with candlelight that creates a look suggesting fancy, old world style. The truth, as it so often does, lies somewhere in between.
When we stepped inside, the curtains distilled the evening sun into a gentle glow. Jazz standards and blues were playing, and pictures of Europe hung on the mellow purple walls. The atmosphere lulled me into a relaxed mood.
We had made reservations; this is recommended because the dining room only seats about 30. When we arrived, our table awaited us with water glasses filled.
Soon after we sat down, our waitress brought bread with garlic and parsley butter. The bread went in line with the music, gentle and soft. A server, or should I say the server, since there was only one, came and offered some tips for navigating the menu. The list of sauces to go with your chosen pasta is substantial: a variety of cheese, tomato, olive oil, cream, butter and pesto options. She suggested we just take it one course at a time.
She also warned us that everything was made to order, so we might need a little patience. It was a bit of a wait, but within reason.
First came garlic soup and the "Roman Reds" salad, with a side of garlic bread. The menu states that everything is made in house. I confirmed the next day that this included the chicken stock.
The soup was straightforward; the minced garlic came through loud and clear. The cheese in the soup was gloppy, but parsley and chopped tomatoes added a subtle dimension of herb and acid. It was refreshing to taste a garlic soup that wasn't laden with cream.
My dining companion's Roman Reds salad lived up to its name: red leaf lettuce, radicchio, red cabbage and red onions. The bitter leaves were slathered with an assertive vinaigrette — sweet with a red wine vinegar kick. Adding to the crunch of the radicchio and cabbage were lots of dried red currants, walnuts and refreshing red grapes.
I don't usually use butter at home, so the garlic bread was a treat: crisp and decadent.
La Spaghett has been around for more than 20 years and the current owner has been there for 12, according to our server. It isn't the type of place where staff abound, clearing every crumb on your tablecloth, but our server was pretty attentive overall, and the chef even pitched in by delivering our dishes for one course.
My companion got the whole wheat pasta with puttanesca sauce. There was an abundance of sauce, full of the flavours you want to taste. The anchovy taste came through, and there were juicy chunks of tomato. The capers and olives added more salt, and it had just the right spiciness to require a sip of wine or water every few bites.
I had ordered the tortellini with Palermo sauce but got angel hair instead. The primary flavours of pesto (basil, olive oil and garlic) were prominent and the Parmesan sprinkle and black pepper arrived tableside. Artichokes, red onions, and enough julienned sun-dried tomatoes to make me push some aside, were tossed in with the pasta. The pasta itself was cooked perfectly. Like the bread, it didn't have a ton of character but was more a vehicle for the sauce and veggies.
We were happy to see Tawse wines from Vineland listed on the menu by the glass, among some Italian selections, and they went reasonably well with the pastas.
Throughout the meal, one of the things I enjoyed most was my company. The small and quiet atmosphere led to an intimate and almost private experience. In fact, the couple at the table next to us was on a date, and it seemed the perfect spot for that occasion. That being said, it is not dress up fancy; one diner still had numbers on her legs from doing a triathlon earlier that day, and she fit in just fine. She was there with her husband for a casual date as well, probably refuelling on carbs.
The small pizza's overall taste of tomato and sausage was good, but the crust was a little soft for my taste and the cheese not quite melted. When I reheated the remainder at home and crisped up the crust a little, it was an improvement.
The desserts are a selection of Dufflet's Pastries. We tried a white chocolate mousse cake, tiramisu, and a pecan and caramel cheesecake. If you know Dufflet's, you know they were all very good. The mousse was light and airy, the tiramisu was intensely creamy, and the cheesecake was the perfect texture.
After dinner, my partner and I were all smiles. La Spaghett isn't a place where you are going to get innovative food (chopped parsley is a popular garnish), but it's a nice spot in which to relax and have a comforting meal with some wine and good company.
Alana Hudson has cooked in restaurants including Vong, Le Bernardin and Avalon.
http://www.thespec.com/living-story/6779134-restaurant-review-la-spaghett-pasta-house-italian-comfort-food-perfect-for-date-night/