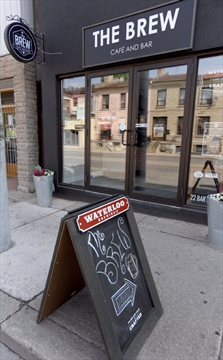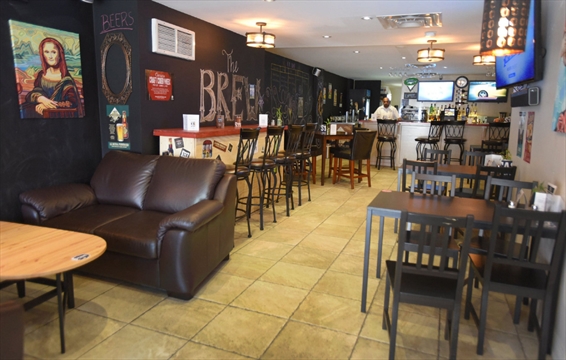 Hamilton Spectator
Summer landed hard this week. It would have been criminal not to acknowledge that with an oversized novelty beverage. Weirdly, I did it at maybe the last place I would have expected — a beer-centric bar on Barton Street East.
Beyond the wine list and the cocktails, after the coffees and the craft beer, was listed the Tropicolada — a $13 mix of juice and spirits served in a whole frozen pineapple, complete with pink paper umbrella. Bottoms up.
The Brew House is located on Barton Street East, where a Hungarian restaurant sat roughly a year ago.
If memory serves correctly, some of the décor inside is the same. There are stuffed armchairs covered in thick modern-retro upholstery, leather couches, wooden IKEA chairs, and a bar that faces a wall covered in blackboard paint, which advertises specials including wings and a pint. It also lists the beers on tap, the majority of which are craft brews such as Nickelbrook, Lake of Bays, and Cameron's.
The menus, both food and drink, are funny in that they feel like they're trying to do everything.
Meal options include breakfast, lunch, and dinner (as well as a kids menu), though there's some crossover in the sections. The tuna sandwich, for example, appears in all three, but, our server explained, is more of a melt as a breakfast item. Otherwise, there's a kale salad, a few other sandwiches, a couple standard eggs-and-bacon breakfast choices, and two dinner entrees in the form of stuffed chicken and grilled salmon.
As mentioned, drinks run the gamut from simple pints to Caribbean cruise-style cocktails.
The bar closes a bit too early (midnight on weekends) to be exclusively a bar, and the hours for breakfast, lunch and dinner are specific, so it's not like all their meals are always available either, which makes it hard to put a finger on the kind of place the establishment wants to be, though that isn't necessarily a bad thing.
We started with a trio of samosas. Each one was about three inches long, and made from a delicate phyllo pastry. The inside was a ground chicken filling that developed a slow, easy heat as you ate. It was cut nicely by a yogurt-based dip.
After that, we were happy to have our tropicolatas to work through (once the drink is done, there's still plenty of frozen fruit to scrape from the inside of the "glass") because the mains took about 20 minutes to arrive, which was odd considering they were sandwiches. That said, there was only one server working the floor and the kitchen on a Thursday afternoon, and he did a good job of checking in with us regularly, and answering questions.
I had the pepperchini. Roasted red peppers, zucchini and asparagus with feta cheese were served on a toasted loaf. The toppings weren't many in terms of quantity, but they packed quite a nice flavour. The peppers lent an almost fig-y sweetness to the meal, which was nicely offset by the saltiness of the feta. The bread itself was thick, crusty on the outside, and chewy within.
It came with a side kale salad, dressed with a light vinaigrette, and topped with feta, tomatoes and red peppers.
My companion had the tuna melt, which she found bland. The tuna wasn't overly flavourful, though there was melted cheddar to add another dimension to the sandwich. The side of potatoes it was served with, cut into medallions, were great. Their surfaces were crisp without being overly greasy.
I'd go back to try out Brew Bar's breakfasts, and their lunch options are a good deal (a $7 tuna melt with a side? Amazing). Otherwise, worth a visit to see whether or not this might be your new lunch local, cocktail hour stop, or coffee shop.
905-526-2487 | @Amyatthespec
http://www.thespec.com/living-story/6694792-restaurant-review-could-brew-house-be-your-next-hangout-/