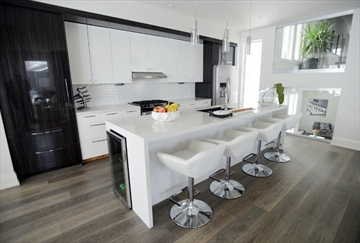 Hamilton Beach Property Featured in the Spec
Home's exterior pays homage to its heritage, but inside is completely contemporary
At the front it's board and batten and beachy, at the back it's Malibu cool. The Beach Strip home of Terri Laan and Chris Farner has a million dollar view and could have a million dollar plus price tag. But it's not for sale.
The Oakville couple finished building their 4,700-square-foot home this spring and admit it's too big for them and their daughter. But they've fallen in love with the views of the lake, the vibe of the beach and the genuine people they've met since moving in. It's a stark contrast to the neighbourhood they left behind says Laan, "Twenty four years, I don't know my neighbours in Oakville, we say hi, but invite them for a glass of wine? No."
Laan owns TK Force, an IT company, Farner's company is Chris Farner Custom Construction, he discovered the Hamilton beach by accident, and couldn't believe its charm. "This area is changing, if you go down to the Beaches in Toronto, you see some pretty funky places, why not here in Hamilton," he says. So they bought a rickety house near the Skyway Bridge, tore it down, and began their trip on the strip.
Construction started in 2013, and the big modern house with a wall of windows on the water was a head turner for people strolling the beach. But the house has a split personality. The board and batten section facing the street reflects the turn-of-the-century heritage of the neighbourhood and could be mistaken for an original cottage.
Once inside the front door, contemporary art, modern furniture and accessories in turquoise and orange blow away any nod to Victorian era decor. Brushed oak floors lead to a floating wood and stainless steel staircase to the second storey, where a view of Lake Ontario awaits.
"It's so therapeutic looking at the lake, and watching people cycle and walk on the boardwalk, Laan says. That pleasing vista is visible everywhere on the second floor. Sliding glass doors lead to a deck and view out over the waterfront trail. A sectional sofa and chairs take in that view and also a feature wall with fireplace and ceramic tile that suggests wave patterns. "I didn't want anything too dramatic to take away from the view," says Farner who designed and built the house.
During construction, Laan kept an eye on the budget, and Farner focused on quality. "I don't see price," he says. But Laan does, that's why the "$10,000 over budget floors" meant cement in the basement instead of tile, and a shower curtain instead of glass surround in their daughter's bathroom.
The open concept main floor features a crisp kitchen in white, black and grey. Farner built his own cabinets and a sleek pantry unit in polyester coated MDF called Metallic Elm. The island countertop is quartz, bar stools were ordered online, and hanging pendant lights were a find at Costco. Just off the kitchen and overlooking the lake, a glass table seats four for dinner, or is a pleasant place to do paperwork.
Bedrooms are located on the third floor. The master is a rendering of hotel chic with white walls, bedding and furniture, and just a few grey accents. Through glass doors to the deck, outdoor furniture waits for summer to begin.
The most colourful room in the house belongs to 17-year-old Amber where the theme is fish and flowers in primary colours.
"A lot of people can't visualize space, I've never had a problem with it," Farner says as we wind down our tour. Just like he had no problem seeing what life could be like on the Hamilton Beach, just a few metres away from the Skyway Bridge and the Burlington ship canal.
In June the couple are having a beach party, they want to meet more neighbours and share what they've built, according to Laan.
"I just love it here, the people I've met, they don't have an agenda, they're real."
www.kathyrenwald.com
http://www.thespec.com/living-story/5649620-renwald-modern-beauty-on-the-beach-strip/
http://www.thespec.com/videopopup/5649632?popUp=true