Hamilton Spectator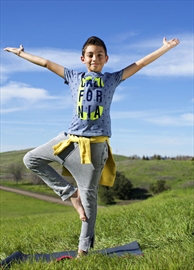 By Liz Schnabolk
It's no secret that playing outside is a great way for kids to keep physically fit, but it also has mental benefits. Hattie Garlick, author of the book "Born to Be Wild: Hundreds of Free Nature Activities for Families," suggests taking time to slow down outdoors: "Giving children the opportunity to stretch their bodies and minds in nature helps them alleviate stress and recharge their imaginations." Have your kids try a sequence of these simple exercises — which are inspired by both yoga and nature — to practice mindfulness under the sky.
Tree pose
Stand in a peaceful spot, with your feet together and hands at sides. Shift your weight to your left foot. Focus on a steady object in front of you. Bend your right knee, and draw your right foot up, pressing the sole against the inside of your thigh (toes pointed to the floor, knee open to side). Put your hands on hips, then reach them to the sky. Hold, then switch sides.
Waterfall position
Stand with your feet hip-distance apart and breathe deeply. Stretch your arms straight up above your head. Gently bend back ever so slightly, opening up your chest, and imagine a waterfall flowing off the tips of your fingers and onto the ground beneath them. Return to start, and repeat.
Blossom move
Lie flat on your back, with your arms on the ground and stretched above your head. Breathe in slowly and deeply. Breathe out and sit up slowly, extending arms up. Bend forward, reaching toward your toes. Rest for a moment. Slowly and carefully sit up, lifting your arms again, then lie back down, returning to starting position. Repeat.
FamilyFun magazine
http://www.thespec.com/living-story/6697971-kids-and-yoga-at-om-in-the-outdoors/