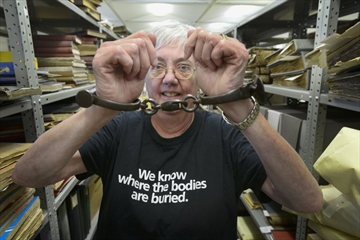 Heritage – John Rennison,The Hamilton Spectator
Margaret Houghton wears a pair of old police handcuffs that are part of the police collection at the Hamilton Library. Houghton won the Reverend T. Melville Bailey Award for Lifetime Achievement in Heritage.
Preserving the city's past was promoted at city hall on Saturday as the annual Heritage Day Awards were handed out.
The accolades — given to local students, volunteers and historians — are run jointly by the tourism and culture division at the City of Hamilton as well as the Hamilton-Wentworth Heritage Association.
At the ceremony, Lincoln Alexander — Canada's first black MP — was recognized as the Greatest Hamiltonian for 2017, said Robin McKee, chair of the association.
Sen. Don Meredith, who introduced a bill in the Senate to establish Jan. 21 as Lincoln Alexander Day across Canada, was also at the event.
This year's winners include:
Hamilton-Wentworth Heritage Association Volunteer Recognition Awards
Nominated by:
The Ancaster Township Historical Society: Beatrice Deadman, Dr. John Deadman
Beach Canal Lighthouse Group: Grace Belliveau, Roger Hortensius
Duet Club of Hamilton: Auldeen Montoux
Dundas Museum and Archives: Beryl Haslam, Judith Mureika
Erland Lee (Museum) Home: Virginia Blackman
Fieldcote Memorial Park & Museum: Mavis Baker, Chloe Patricia Banach
Friends of Battlefield House Museum & Park: Phil Conklin, Bruce Nelson
Friends of Westfield Village: Jill Stephenson
Griffin House: Aline Chan
Hamilton Mountain Heritage Society: David Lindeman
Sir John A. Macdonald Society: Ron Dick, Robert Weingartner
United Empire Loyalists' Association of Canada, Hamilton Branch: Pat Blackburn UE
Westfield Heritage Village: Pauline Grondin, Lynn Macintyre
Women's Art Association of Hamilton: Christine Averink, Amanda McKinney Sparrow
Women's Canadian Club of Hamilton: Freda Crisp, Mary Lorimer
Susan E. Bennetto History Student of the Year
Nicole Dragus
First Runner Up for Susan E. Bennetto History Student of the Year
Michael Harris
Second Runner Up for Susan E. Bennetto History Student of the Year
Meghan Bird
Reverend T. Melville Bailey Award for Lifetime Achievement in Heritage
Margaret Houghton
With files from Hamilton Community News
http://www.thespec.com/news-story/7164583-honouring-hamilton-s-heritage/