Hamilton Spectator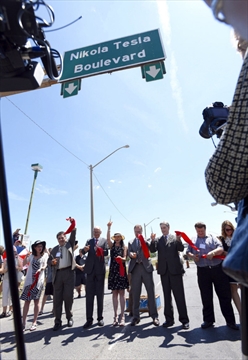 Hamilton Serbs celebrated with fanfare on Sunday at the city allowing part of Burlington Street East to be renamed after their national hero, inventor Nikola Tesla.
Tesla designed alternating current in the late 1800s, the electrical system still used worldwide.
About 400 people, mostly Serbian, gathered where Burlington Street becomes Nikola Tesla Boulevard near ArcelorMittal Dofasco, for a ribbon-cutting under the new street sign.
Dignitaries arrived in a parade of Tesla cars and included the Serbian ambassador to Canada, city politicians, and members of the Nikola Tesla Education Corporation (NTEC), nonprofit group. Serbian media also covered the event.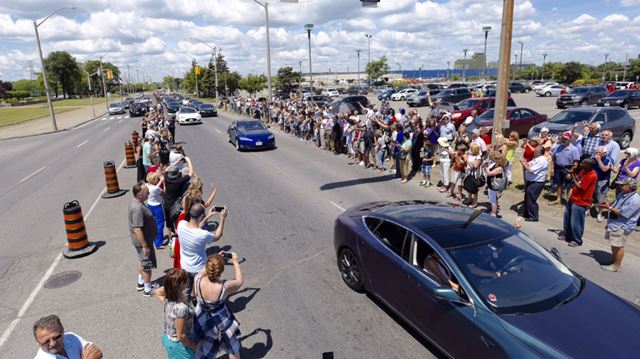 NTEC president and festival organizer Veroslav Djurdjevic, said 75 per cent of the crowd was Serbian because they all know about Tesla. But soon, Hamiltonians will know too, he said.
"When we educate Hamilton, they will come on board to understanding what Tesla did for this city," Djurdjevic said, referring to Tesla's invention providing enough electricity to power its industry.
"Hamilton was the first city of innovation," he said, adding that NTEC's vision is to educate and inspire children to follow Tesla's innovations and build on them to restore Hamilton's reputation.
Serbian pride swelled on the street with the singing of the Serbian national anthem and a folklore song performed at Tesla's funeral in New York in 1943.
NTEC, with the help of former mayor and now Hamilton East-Stoney Creek MP Bob Bratina, got city council in 2015 to approve the renaming as long as the city didn't have to pay for it.
Bratina, whose father was born in Croatia like Tesla, called Tesla during the festival at Confederation Park "arguably the greatest genius who ever lived."
Tesla, who lived for 60 years in the U.S., was credited Sunday with making Hamilton the industrial giant it once was. At the festival booths at Confederation Park, he was said to be the genesis behind everything from iPhones to hover boards and several holistic health measures.
Tesla enthusiast Victor Starecky, of the Weird Stuff shop on Main Street East, said "We were the first city in Canada to have electricity thanks to Tesla."
905-526-3392 | @CarmatTheSpec
http://www.thespec.com/news-story/6761233-hamilton-s-serbs-celebrate-nikola-tesla-s-160th-birthday-with-street-naming/