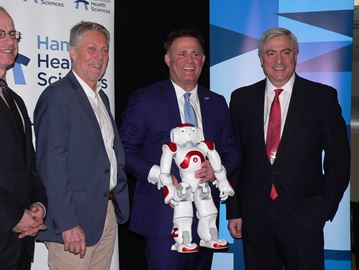 Hamilton Health Sciences partnership with IBM Canada
By Kevin Werner, HCN
The U.S.-based Site Selection Magazine selected Hamilton as one of the top locations in Canada for investment. One of the highlights of Hamilton's economic development was the announcement of HHS and IBM Canada establishing a partnership in the downtown. From left Mayor Fred Eisenberger, IBM Canada president Dino Trevisani, HHS president Rob MacIsaac.
---
Stoney Creek News
Hamilton's investment growth and image received a huge boost from a United States business publication last week.
Norm Schleehahn, manager of business development for the city, said the recognition by a third-party organization on the city's economic strategy has been is always welcome for the city and its companies.
"It shows (other businesses) Hamilton is a good place to do business," said Schleehahn. "It's another piece to give to potential investors."
This is at least the fifth time Hamilton has been recognized by the prestigious Site Selection Magazine headquartered in Atlanta, Georgia.
It listed the top 10 municipalities in Canada to invest in, including Brantford, London, Moncton, Montreal, Toronto, Vancouver, Waterloo Region and Winnipeg, with Ontario accounting for half of the 10 metro-area and regional economic development groups in Canada.
The magazine tapped Ontario as the top spot in its eighth annual Canada's Best Locations list to invest. The magazine used its own information collected from April 2015 to March 2016.
Schleehahn said the magazine is distributed to about 44,000 readers that have an interest in investment opportunities throughout the world.
Schleehahn said Hamilton's business environment continues to reap the benefits of an ever-expanding diversification strategy. The city's building permits once again nearly topped the $1 billion mark.
This year along Hamilton has welcomed the highly-anticipated announcements for the first flour mill built in 75 years in Ontario by the Parrish and Heimbecker Group at a cost of about $40 million, while a $50-million grain terminal was announced in late 2015 by G3 Global Grain Group at Pier 26.
Hamilton was recognized for its innovative partnership with the Niagara Region during the 2015 Pan Am Games that was able to reach out to the South and Central American companies for potential business investments during the athletic contest. Meetings and partnerships were initiated that could eventually prove beneficial, said Schleehahn.
And city's Blue Ribbon task force on the city's workforce was also noted by the magazine as Hamilton attempts to improve how it develops its employees.
There has also been some good news for the Ancaster Business Park including the expansion of Fibracast, a new warehouse, and the additional construction by Stackpole.
"There is a lot of development going on at the Ancaster Business Park," said Schleehahn.
He expects to see more good economic news in 2016, with some businesses expected to make a few announcements.
Over the years Hamilton has been recognized for its multi-purpose cluster strategy that identifies various industries for developing, including food, bio-technology, and health care.
One of the brightest economic news from Hamilton was the announcement earlier this year of the partnership between Hamilton Health Sciences and IBM Canada that will initially benefit the city's downtown.
Hamilton a few years ago made an economic splash with Canada Bread and Maple Leaf for the Red Hill Business Park. Those types of businesses don't happen every day, said Schleehahn.
"They generate tax revenue," he said, "but they are far and few between."
Schleehahn says steel and manufacturing continue to be significant contributors to the city's economy.
He points to Nucor Corporation, the largest steel producer in the United States, broke ground in June for a 30,000-square-foot expansion to its Vulcraft Canada Inc. plant that will mean 50 news jobs by the end of the year.
Hamilton's economic development department though targets not only attracting companies to the area, but to make sure its current businesses are getting the most out of the resources the city offers them now.
"We continue to work closely with our existing businesses," he said. "They know the area, and we understand their needs."
Schleehahn says the best example of that is Metl-Span, a leading U.S. manufacturer of insulated metal panels, which acquired the Vicwest manufacturing plant on Burlington Street, to serve an expanded customer base in Canada and U.S.
"Things are happening in Hamilton, and they will continue to do so," said Schleehahn.
http://www.thespec.com/news-story/6852672-hamilton-recognized-for-top-location-for-investment-in-canada/