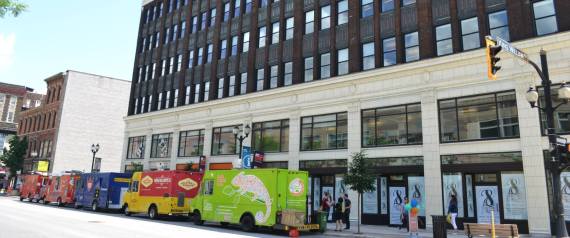 The Huffington Post Canada  |  By Rebecca Zamon
If you think the only restaurant scene in southern Ontario is in Toronto, then you obviously haven't visited Hamilton for a meal.
The Hammer (or Steeltown, if you prefer) has exploded in the past few years with a number of amazing restaurants and events that celebrate Ontario's bounty, while remaining incredibly community-oriented.
"It's very rare to find so many businesses at different stages of their success, from brand new ventures getting off the ground and beloved institutions, and everyone seems accessible," says Dave Hanley, owner of Pop Up Hamilton and occasional food writer for Hamilton Magazine. "There's a very strong neighbourhood feeling. There's a feeling that if one of us succeeds, all of us will succeed."
Hanley's company, which creates four-to-six course pop-up dinners at inventive locations, has worked with many chefs in town for their sold-out events. Though they initially had to hunt around for their cooks, now Hanley says they build their events around the chef, instead of vice versa.
And that includes chefs like Jonny Blonde, whose barbecue food truck helped lead the way for the city's street food revolution, now celebrated as one of the best in Canada. More evidence of Hamilton's carnivorous roots comes in the form of MeatVentures MeatWagon, another favoured food truck.
"The food truck community is very supportive of each other," says Hanley. "They send a lot of business each others' way. It's a very authentic city."
The Huffington Post Canada came up with a list of the best sit-down restaurants in Hamilton, from the very high end to the messiest of great bar food. Take a look at our choices, and let us know — what did we miss?
Chuck's Burger Bar
Where: 194 Locke St. S.
Type of food: Seriously impressive burgers. "Where burgers are concerned, I'd say [chef Chris Preston] is an artist," says Dave Hanley, owner of Pop Up Hamilton.
How much: Burgers from $8 to $15; sides and appetizers from $3 to $11
Jack and Lois
Where: 301 James St. N.
Type of food: Gourmet sandwiches and breakfast. "Their chefs have integrity, they're really committed to innovation, they try a lot of things and succeed at most of them," says Hanley.
How much: Sandwiches from $7 to $13; breakfast from $7 to $12
Rapscallion
Where: 61 Young St.
Type of food: Adventurous carnivore (with a few veggie options). "Matt Kershaw is probably the single greatest chef in Ontario," says Hanley. "Simplicity kind of rules and yet he's daring at the same time."
How much: Dishes from $9 to $19
Bread Bar
Where: 194 Locke St. S.
Type of food: Shared plates, burgers and pizza
How much: Appetizers $6 to $15, burgers $9 to $13 (a mac and cheese burger!), pizza $13 to $15
Cavallo Nero
Where: 370 Wilson St. E.
Type of food: Italian. "They manage to deliver high-end, really flavourful cuisine without any pretense," says Hanley.
How much: Appetizers $6 to $12, pasta, pizza and mains between $12 and $30
Valentino's
Where: 824 King St. W., 835 Paramount Drive (Stoney Creek)
Type of food: The pizza is the real standout here
How much: Pizza $7.50 to $14
The Burnt Tongue
Where: 10 Cannon St. E.
Type of food: Soups, fresh cut fries, hamburgers, Rudy's paletas
How much: From $4 to $10
Mex-I-Can
Where: 107 James St. N.
Type of food: Mexican (obviously), vegan, vegetarian
How much: Appetizers from $10 to $14.50, mains from $11.50 to $19
Papagayo
Where: 246 King St. W.
Type of food: Fine Mexican food
How much: Appetizers from $5.50 to $10.75, mains $16 to $20
The Purple Pear
Where: 946 Barton St. E.
Type of food: Steak, seafood and classic entrees
How much: Appetizers $3.95 to $9.95, mains $12.95 to $39.95 (for twin lobster tail)
Wild Orchid
Where: 286 James St. N.
Type of food: Portuguese, "masters of seafood," says Hanley.
How much: Appetizers $5 to $15, mains $13 to $30
Quartrefoil
Where: 16 Sydenham St. (Dundas)
Type of food: Modern French, local ingredients. "The hallmark of exceptional," says Hanley.
How much: Appetizers $9 to $24, mains $32 to $42
NàRoma Pizza Bar
Where: 215 Locke St. S.
Type of food: Pizza. "Their dough-making process takes 72 hours," says Hanley. "You've never met a more passionate pizza maker [than owner Mario Spina] in your life."
How much: Appetizers $4 to $9, pizzas $11 to $20 (plus more for 'party' size)
Culantro
Where: 47 King William St.
Type of food: Peruvian
How much: Appetizers $4 to $8, plates $9 to $25
La Cantina Ristorante
Where: 60 Walnut St. S.
Type of food: Italian. "You go there at 7 and you just wind up staying until midnight," says Hanley.
How much: Appetizers $6.50 to $14.95, mains $12.95 to $24.95
Chicago Style Pizza
Where: 534 Upper Sherman Ave.
Type of food: Gooey, yummy pizza.
How much: Pizza starting at $13.50 (with a lot of toppings and options to add)
La Luna
Where: 306 King St. W., 650 Concession St.
Type of food: Lebanese. "It's a no-nonsense place with amazing food," says Hanley.
How much: Appetizers $6.50 to $8, mains $5.30 to $24.95
Papa Leo's Restaurant
Where: 638 Concession St.
Type of food: Breakfast and lunch (burgers, sandwiches) with a Portuguese influence, amazing specials
How much: Breakfast $6.50 to $13, lunch $5 to $14
La Piazza Allegra
Where: 180 James St. S.
Type of food: Italian
How much: Appetizers $4 to $13, mains $14 to $24
Twisted Lemon
Where: 3 Norton St. W. (Cayuga)
Type of food: Seasonally and locally inspired cuisine. "Chef Dan Megna is committed to the marriage of flavours," says Hanley.
How much: Menu changes constantly, but approximately $16 for appetizers, $35 to $40 for mains
The Aberdeen Tavern
Where: 432 Aberdeen Ave.
Type of food: Gastropub, comfort food. "They serve a duck confit Monte Cristo sandwich at brunch," says Hanley. "If that was a religion, you would just join it."
How much: Shareable appetizers $4 to $17, mains $13 to $29
Matsuri Sushi
Where: 24 King St. E., Unit #36 (Dundas)
Type of food: Sushi
How much: Appetizers $4.95 to $15.95, rolls from $2.50, dishes $10.95 to $21.95
The Ancaster Mill
Where: 548 Old Dundas Rd. (Ancaster)
Type of food: High-end dining with classic dishes. "Along with Quatrefoil, this is one of the more decadent dining experience you can have in the area," says Hanley.
How much: Appetizers $10 to $16, mains $20 to $41
The Ship
Where: 23 Augusta St.
Type of food: Pub, seafood and craft beers. "It's really kicked-up pub fare with influences from around the world without going overboard," says Hanley.
How much: Appetizers $5 to $13, mains $11 to $15
Detour Cafe
Where: 41 King St. W. (Dundas)
Type of food: This place started as a coffee roaster, then started serving brunch, then sandwiches, and now also has dinners on Fridays.
How much: Breakfast $6 to $13, lunch $6.50 to $14
http://www.huffingtonpost.ca/2014/08/08/best-hamilton-restaurants_n_5658349.html
Related Posts