Investors expect a rate hike next month
Bank of Canada governor Stephen Poloz has opted to keep the bank's benchmark interest rate right where it is. (Sean Kilpatrick/Canadian Press)
The Bank of Canada is keeping its benchmark interest rate steady at 1.5 per cent.
The central bank's rate, known as the target for the overnight rate, affects the percentage borrowers and savers get from retail banks on mortgages, savings accounts and other financial services.
All things being equal, the central bank raises its rate when it wants to cool down an overheated economy but cuts it when it wants to coax people to borrow money to spend and invest in a sluggish economy.
In a statement announcing the rate decision, the bank said trade uncertainty stemming from NAFTA negotiations continues to weigh on the outlook, but the economy overall is performing about as expected.
"Business investment and exports have been growing solidly for several quarters," the bank said. "Meanwhile, activity in the housing market is beginning to stabilize as households adjust to higher interest rates and changes in housing policies."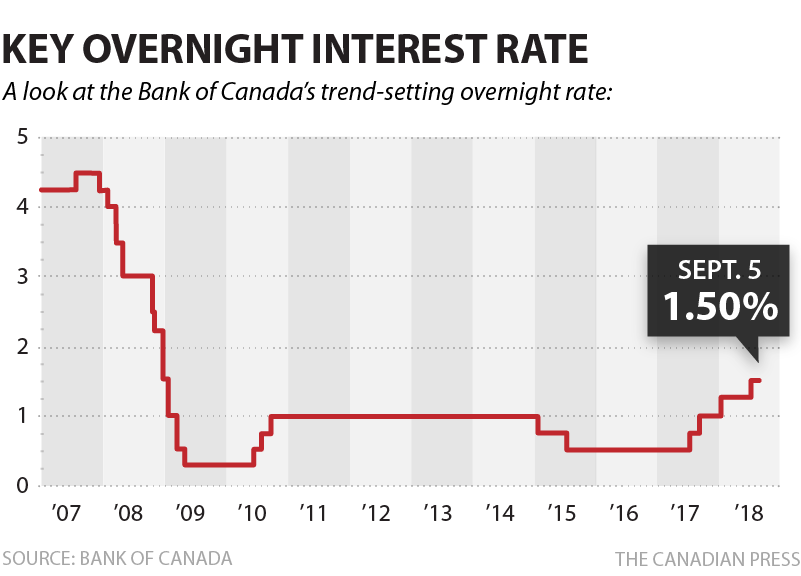 While it opted to stand on the sidelines for now, the bank gave every indication it does plan to keep ratcheting its rate higher in the near future.
"Recent data reinforce Governing Council's assessment that higher interest rates will be warranted to achieve the inflation target," the bank said.
Toronto-Dominion Bank economist Brian DePratto interpreted the bank's comments as suggesting a "gradual approach" when it comes to hiking rates.
The last time the bank included the phrase "higher rates will be warranted," DePratto notes, was in May, when it ended up hiking its benchmark rate at its next meeting.
"Barring a major shock, an October hike looks like a pretty safe bet," DePratto said.
Investors certainly seem to expect that. Trading in investments known as overnight index swaps currently imply there's about an 85 per cent change of a rate hike at the end of October — the next regularly scheduled for the bank to meet and decide on its monetary policy.